New Zealand's love affair with utes knows no bounds. A call back to our rural roots, utility vehicles have evolved alongside our country, ingraining their presence into Kiwi culture. No longer reserved for the farm and worksite, utes have seen widespread adoption due to their versatility, blurring the line between work and play. The Mitsubishi Triton has been a mainstay for almost 3 decades, earning itself a reputation for being a powerful and reliable option to meet the diverse lifestyle of New Zealanders looking to own a ute. Mitsubishi's ongoing commitment to developing each new iteration of the Triton range in alignment with their loyal fanbase's needs has catapulted the ute into being one of New Zealand's best-selling utes.
With that in mind, it comes as no surprise that anticipation is high for the release of the all-new 2024 Triton, and with the latest information released by Mitsubishi it's clear that they're coming out of the gate swinging.
The latest Triton pulls no punches.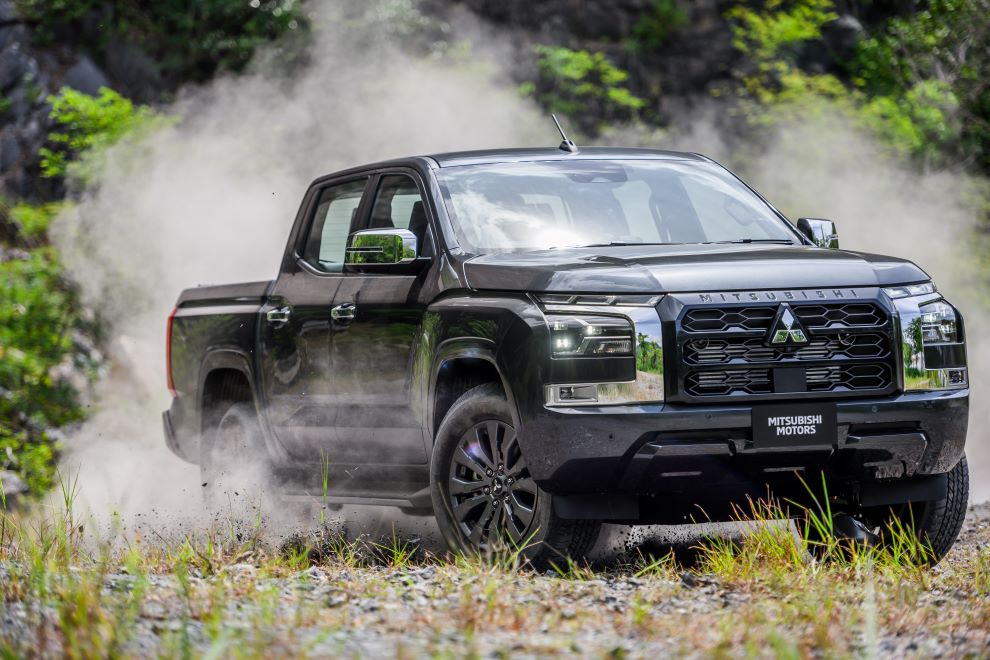 The New Mitsubishi Triton: Redefining Excellence
In this exciting reveal, we delve into the standout features that set the 2024 Triton apart. We'll cover Triton's innovative design overhauls, improved chassis, and upgraded safety and technology features. Additionally, we'll touch on the anticipation surrounding the availability of different models in New Zealand. Whether you're a current Triton owner or looking to upgrade your utility vehicle, there's a lot to be excited about with the impending release of the Mitsubishi Triton. Here's a comprehensive preview of what you can expect.
REGISTER YOUR INTEREST IN THE 2024 TRITON
Form, Function and Ferocity: The 2024 Triton's Design
Embodying a perfect combination of form, function, and ferocity, the 2024 Triton encapsulates Mitsubishi's contemporary visionary design ethos. We've seen Mitsubishi hit its stride over the past few years by establishing a strong, bold design language, and the newest Triton is set to continue this momentum.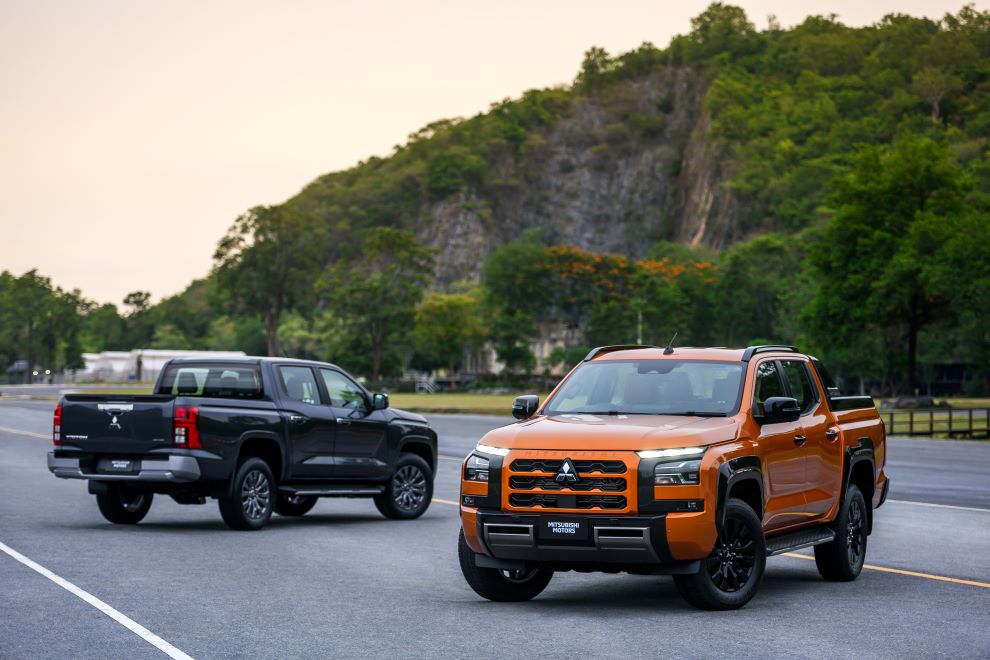 Exterior
The exterior of the all-new Triton is an impressive fusion of agility and Mitsubishi's aggressive contemporary design language. The result is an imposing and commanding presence that encapsulates the power and toughness expected of the popular ute line-up. Mitsubishi's iconic Dynamic Shield design concept – which represents Mitsubishi's juxtaposition between performance and safety - plays centre stage in Triton's redesign. Framing the face of the ute is a robust, three-dimensional front grille and fenders, punctuated with L-shaped LED running lights that let everyone know that the Triton is a predator and not prey. The result? The Triton has an almost overwhelming presence. This horizontal theme is carried through to the body, where large solid surfaces complement the robust doors and contrast sharply with the overhanging fender panels to create an appearance of stability and toughness. This horizontal design continuity travels to the Triton's cargo bay, the large solid shapes echoing the ample space on offer in the Triton's bed. This is all tied together by T-shaped tail lights, finishing off the Triton's striking, sturdy and aggressive redesign.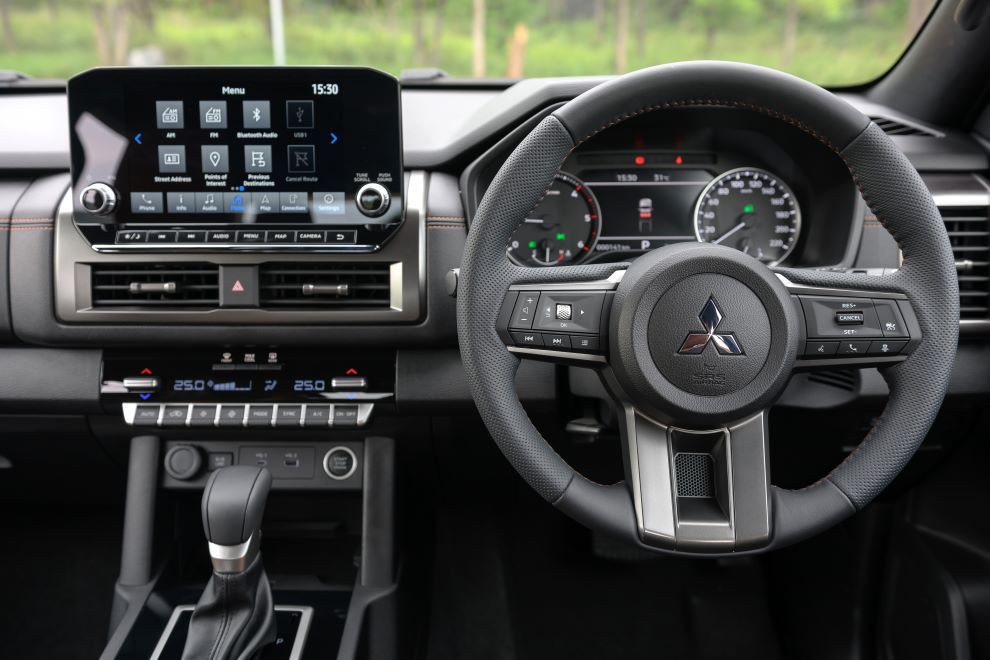 Interior
The 2024 Mitsubishi Triton boasts an interior that has been entirely revamped, bold, contrasting, and effortlessly combining luxury touch points with functionality. At the heart of the redesign is the "Horizontal Axis" concept, which crafts a driver-centric layout that easily communicates the vehicle's dynamics to the driver. The use of geometric shapes and metallic elements creates a contemporary, high-contrast space that is both aesthetically pleasing and functional. Key functionalities, such as monitor visibility and switch sensitivity, are optimised for ease of use even when wearing gloves, reflecting the vehicle's readiness for use in both work and play. The inclusion of soft padding in key areas enhances passenger comfort and protection, further testifying to the Triton's dual commitment to luxury and practicality. The newly designed steering wheel, grips, and door handles embody the "Mitsubishi Touch", ensuring sturdiness and a comfortable grip for the driver. The Triton also offers thoughtful storage solutions. The 6A/T and 6M/T centre console provide space for two large cups, while the console box can easily accommodate four 600mL bottles. For the 5A/T model, there is additional storage suited for tablets and files, acknowledging the needs of professionals on the go. Even the smallest storage areas, including the glove box and smartphone holder, are designed for easy access, even when wearing gloves. Furthermore, the instrument panel and centre console feature both USB A and C ports, and a wireless charger, ensuring you're always connected while on the road.
The 2024 Triton's Redesigned Chassis
The 2024 Triton's chassis has been completely redesigned, featuring a newly developed ladder frame that boasts a 65% greater cross-sectional area compared to the previous model. This significant increase has resulted in a bending rigidity increase of 60% and a torsional rigidity increase of 40%. The use of high-tensile steel has kept weight increase to a minimum, resulting in increased road performance without sacrificing the comfort of the driver. By building out the robustness of the Triton, the latest ute has improved durability during loading while also ensuring efficient energy dispersion in the event of a collision. The icing on the cake is Mitsubishi's use of the new 1180 MPa high-tensile steel has resulted in the body of the Triton being lighter than the previous model.
CHECK OUT THE LATEST DEALS ON THE CURRENT TRITON
Introducing the Triton's New Clean Diesel Engine
Under the hood, the Triton 2024 is powered by a newly designed 4N16 clean diesel engine, available in three different specifications to carry on the Triton line-up's reputation for providing New Zealanders with a wide range of options to cater to their specific needs. The high-output version, equipped with a new turbocharger and combustion system, delivers a flat maximum output of 150 kW and maximum torque of 470 Nm from approximately 1,500 rpm. This provides a highly-responsive driving experience, boasting abundant torque, equipping the Triton to tackle almost anything you can throw at it. The two standard specification versions are equally impressive. One comes with an engine offering a maximum output of 135 kW and maximum torque of 430 Nm, while the other delivers a maximum output of 110 kW and maximum torque of 330 Nm.
Unmatched 4WD System of the Mitsubishi Triton
It wouldn't be Triton without a slick 4WD system. In keeping with Mitsubishi providing multiple options in the Triton line-up to suit a wide range of requirements, the Triton has two 4WD systems on offer, Easy Select and Super Select 4WD-II. Both methods are designed to provide unparalleled control and stability in a variety of driving conditions.
Mitsubishi's Super Select 4WD-II system has made a name for itself throughout the industry, and its implementation into the latest Triton stands as a testament to its ongoing evolution. The Super Select 4WD-II system features a centre torque sensing Limited Slip Differential (LSD) which optimises traction and cornering performance by distributing driving force at a ratio of 40% to the front and 60% to the rear. With the inclusion of seven drive modes, an increase over the previous model's four off-road modes, drivers can easily adapt to any road condition. Modes include Eco mode for economy, Gravel and Snow modes for 4H, Mud and Sand modes for 4HLc, and Rock mode for 4LLc. The Easy Select 4WD offers three modes: 2H, 4H, and 4L.
Newly adopted for the Super Select 4WD-II system is the Active Yaw Control (AYC), improving cornering performance by subtly applying the brake to the inside front wheel when cornering. The Triton is further enhanced by the active LSD (brake control type), which applies brakes to spinning wheels and redistributes torque to wheels gripping the road surface for increased safety on slippery surfaces and a sportier driving experience. Standard in all models is the Active Stability & Traction Control (ASTC) for improved stability on winding roads, Hill Descent Control (HDC) for controlled downhill driving, and Hill Start Assist (HSA) to prevent roll-back in hill starts.
Triton's Enhanced Safety Features
Mitsubishi has always prioritised safety, with the vast majority of their contemporary line-up featuring a full suite of advanced safety features as standard, as opposed to their competitors that often reserve these features for their premium offerings. The latest Triton continues this trend, featuring upgraded safety features to ensure both driver and passenger safety. A key addition is the Adaptive Cruise Control (ACC), which seamlessly tracks the acceleration, deceleration, and stopping of the vehicle ahead while maintaining a preset distance between vehicles. Crucial systems such as Forward Collision Mitigation (FCM), Blind Spot Warning (BSW) with Lane Change Assist (LCA), and Rear Cross Traffic Alert (RCTA) have been enhanced, providing comprehensive safety coverage on the road.
Moreover, the integration of Mitsubishi Connect takes owning the Mitsubishi Triton to a whole new level. If you were to, unfortunately, find yourself in an emergency, drivers can request assistance from a call centre with just a single button, including automatic reporting of airbag deployment. By linking with a smartphone, Mitsubishi Connect enables functions such as vehicle location tracking, and remote operation of air conditioning, headlights, and horns. It also allows users to monitor their fuel and oil levels and even provides a driving history. Unfortunately, this feature will not be available in New Zealand.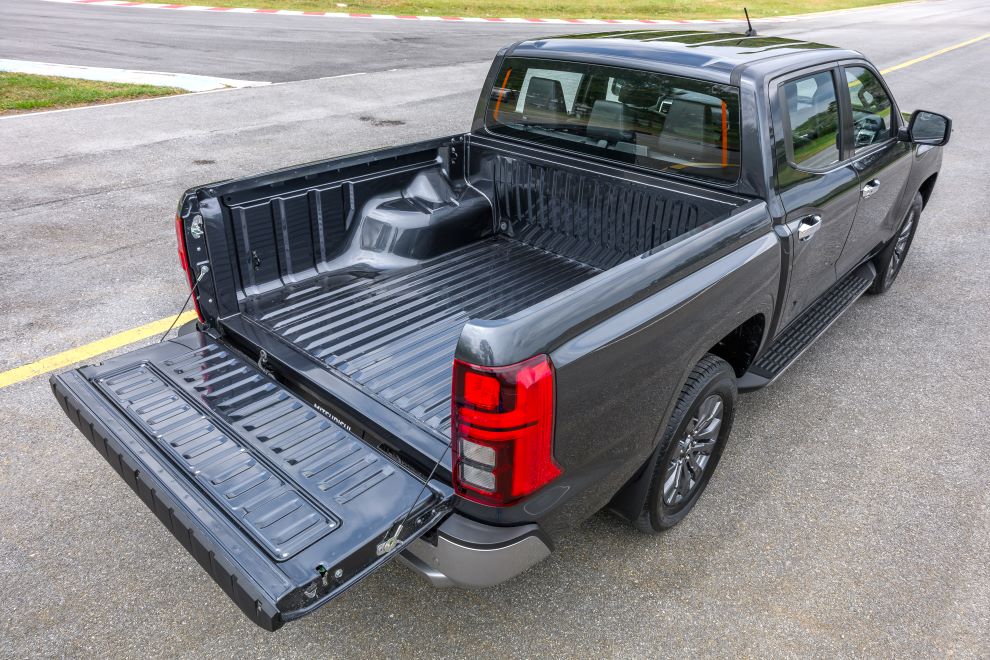 Cargo Space
The Mitsubishi Triton 2024 does not disappoint when it comes to cargo capacity. It boasts a generous bed size that offers ample space for loading all kinds of items, whether that's building materials for the work site, or camping gear to head out with the family on an adventure, the latest Triton blurs the line between work and leisure vehicles. The Triton's high payload capacity further enhances its utility, making it ideal for handling heavy loads without compromising performance. In addition to this, the cargo bed height has been lowered by 45mm compared to the previous model, highlighting Mitsubishi's incredible ability to listen to their customer feedback and implement these highly detailed changes with each new iteration.
What's New in the Mitsubishi Triton 2024
The 2024 Mitsubishi Triton introduces an array of impressive features while staying true to its pedigree of versatility and reliability. The new model comes equipped with a clean diesel engine available in three different specifications, offering robust performance across the range. Enhancements to the renowned 4WD systems, Easy Select and Super Select 4WD-II, offer improved control and stability in diverse driving conditions, with the latter now featuring Active Yaw Control for enhanced cornering. The Triton maintains Mitsubishi's commitment to safety with upgraded features like Adaptive Cruise Control and the new Mitsubishi Connect for emergency assistance. It's as though Mitsubishi took the quote "jack of all trades master of none" as a challenge. The latest Triton is proof that there is always an exception to the rule.
Stay up To Date with the Latest Triton News From Simon Lucas Mitsubishi
The 2024 Mitsubishi Triton is poised to revolutionise the ute market with its spectacular blend of versatility, performance, and advanced safety features. This vehicle is a testament to Mitsubishi's dedication to continuous innovation, perfectly aligning with its commitment to meeting the evolving needs of consumers. With its state-of-the-art technology, superior cargo capacity and the unrivalled control provided by its 4WD systems, the Triton stands as a remarkable example of what modern utes can aspire to be. It undoubtedly sets a new bar in the segment, and we are excited to see how it will reshape the landscape of the ute market in the times to come. While we wait for more details of the next Triton iteration, why not test drive the current Triton line-up and find out for yourself why so many New Zealanders sing their praise? Get in contact with our expert team today for more information!